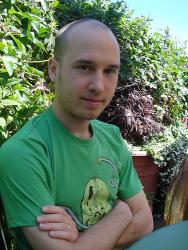 My name is Tennessee Carmel-Veilleux (CV and portfolio here) and I am an embedded systems developer with a Masters of Electrical Engineering. I live in Waterloo, Ontario, with my wife and our son Léon.
Since May 2011, I work at BlackBerry, developing sensors software for next-generation BlackBerry products. I work on drivers, OS service-level code and sensor algorithms, as well as all sorts of prototypes and tools for cool new sensor ideas used in the products.
Prior to BlackBerrry, I have done significant work in the field of mobile robotics, including land, underwater and surface vehicles. While doing my Electrical Engineering undergraduate studies at Ecole de technologie supérieure (ETS), I was participating actively in the SONIA student project, including roles as Technical Director and Co-team leader. The SONIA project works on autonomous underwater vehicles (AUVs) to compete at AUVSI & ONR's International AUV Competition.
While a Masters student at École de technologie supérieure (ETS) in Montréal, Québec, my main research interests were multi-core embedded systems, signal processing and instrumentation. For my thesis, I studied the application of multi-core processors to real-time avionics systems under Jean-François Boland.
I previously completed a Diploma of Collegiate Studies in Electrical Engineering Technology and worked as a technician both full-time and part-time since 2003.